Your Hosts
Marzenna and Kehrt Reyher
The Reyhers were the founders and long-time owners of VFP Communications, a specialized business publishing house based in Warsaw and the publisher of Media & Marketing Polska. After completing the sale of the company in 2011, they relocated permanently to The Palace at Nakło, which they originally purchased in 2002. Marzenna serves as President and Kehrt as a director of The Nakło Foundation, which has responsibility for restoration of the palace and oversees the facility in its function as a bed & breakfast hospitality destination. They are also active in The Foundation's work supporting education, local economic development and Polish culture in the Nakło area. Kehrt, an American, worked as a newspaper reporter, editor and designer in the USA for 15 years, where his career included stints at The Terre Haute (Indiana) Tribune-Star (his hometown newspaper), the Providence (Rhode Island) Journal, and The Detroit News. He is a graduate of Indiana State University and holds a master's degree in journalism from Indiana University. Marzenna studied history at the University of Gdańsk before defecting from Poland to the USA during Poland's martial law period in the mid-1980s. She studied journalism at Wayne State University, where the Reyhers met in 1989. Marzenna served as editor in chief of Media & Marketing Polska from 1993 to 2011.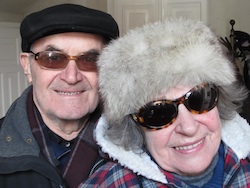 Tadeusz and Danuta Nazar
Marzenna's parents, the Nazars have been in the hospitality business for 40 years; first, in the village of Władysławowo on the Baltic coast, where they operated "Marzenna," one of the top family-style inns in this popular seaside resort. Down through the years, that inn's restaurant was consistently recognized as having one of the top kitchens across a region that is a favorite destination for summer vacationers. In 2002, the Nazars took up residence in The Palace at Nakło and have been instrumental in overseeing the reclamation of the estate's historic grounds as well as the restoration of The Palace itself. Both are avid horseshoe and cornhole players, and serious euchre partners. Tadeusz makes daily rounds through the park on his Melex golf cart, supervising the myriad chores of our handymen, and tends to our two small orchards. Danuta rules in the kitchen, nurtures an estimable collection of indoor plants, decorates the outside of The Palace with flowers in spring and summer, oversees our vast vegetable garden, and puts up massive quantities of preserved goods in the autumn.
In Memoriam: Tadeusz Nazar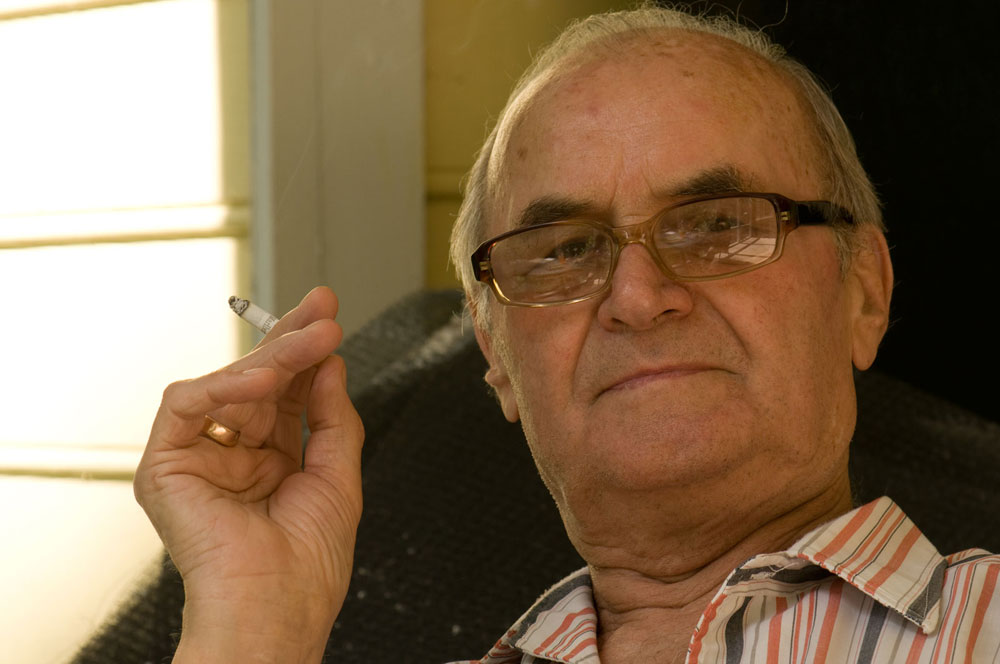 (Nov. 23, 2016) This is the saddest day we've had in our 15 years at this beautiful place. My father-in-law Tadeusz, a truly wonderful character, left us, peacefully, about 2:00 this afternoon after nine full (and I do mean full) decades on the planet.
His fun-loving, hard-working presence fit this place perfectly — and immediately — when he and my mother-in-law Danuta came here after we bought the place in 2002. Before that, they'd lived for 30-odd years in Władysławowo at the Baltic coast, where they ran an inn and restaurant and where they'd planned to retire until they saw this place and fell in love with it, as Marzenna and I did.
They gave up a very comfortable house to come and live in what was then the only barely inhabitable apartment here: two rooms; no central heat — only one ceramic oven and a fireplace; no kitchen; paint peeling; plaster falling; and a park that was more like a jungle after years of neglect. That's where my father-in-law started in immediately. It took him and one laborer-neighbor about two years to groom the orchards, gardens and our beautiful small forest. Day by day, branch by branch, one load of leaves, twigs and dirt after another.
This was at age 76.
But with Dziadek, it wasn't all work and no play. Not by any stretch. The euchre games. The horseshoe games. The parties — they were often wild affairs fueled from his stash of vodka and his special fruit-flavored moonshine ("wine," he called it). Nobody was a stranger for long around my father-in-law, a natural in the hospitality business — accommodating, generous nearly to a fault, and the very definition of gregarious. Always launching toast, after toast, after toast between joke after joke after joke.
He cherished my mother-in-law. I watched the bond between them grow stronger and stronger down through the years. One time only the three of us were here when (as happens too often) the power went down. No TV. No lights to read by. No way to cook. After a couple of hours, candles burning throughout the house, I passed through the living room adjacent to their apartment and heard them talking. Talking and talking. I wondered what they could possibly have to talk about, idly, after 50+ years of marriage. Apparently, plenty: With my father in law, it was often politics and history; maybe about their travels (which were extensive, with a lot of time spent in the USA); our immediate family — grandkids: our boys Teddy (Tadeusz too) and Marshall; and Ariela, our niece and the daughter of Marzenna's brother Kris and his wife, my dear friend Joanie.
My enduring memory of my father-in-law has him on the Melex golf cart we bought shortly after we came here. He'd never had a driving license, so he was like a kid behind the wheel when he'd take off on his daily inspections of the park, always with a couple of our dogs trailing behind. — Kehrt Reyher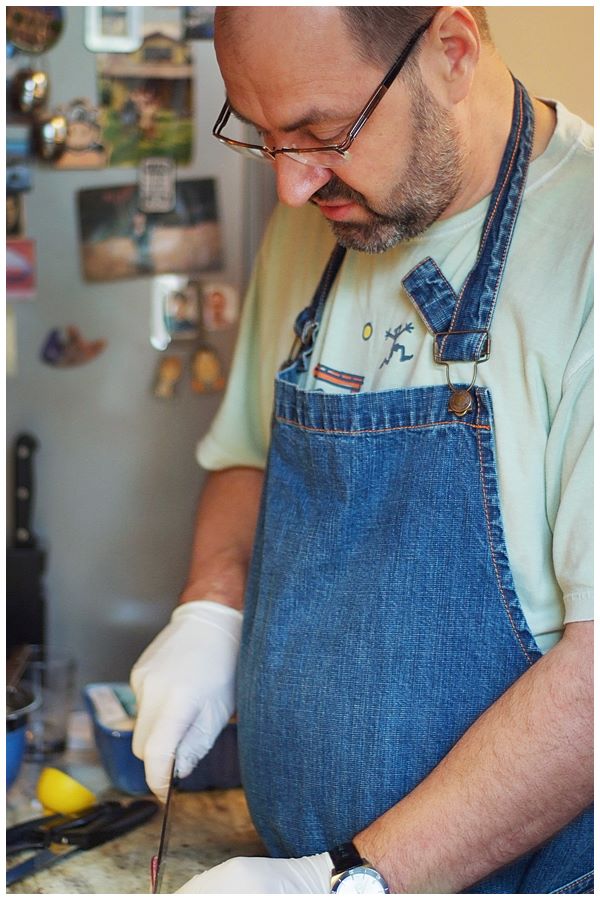 Krzysztof Nazar, Chef
'Kris' got his first cooking lessons in his mother Danuta's award-winning kitchen at a family owned pension in Władysławowo, Poland. He holds an associate's degree in hospitality and tourism and completed a course in the culinary arts at Rockland (NY) Community College, shortly followed by his certification in the ServeSafe program of the USA's National Restaurant Association. He comes to us from a position at Freelance Café, Piermont, NY, where he worked under renowned chef Peter X Kelly, owner of the Xaviar Restaurant Group. Kris joined us in The Palace at Nakło in April 2013.
Q: You left Poland in the mid-1980s. Why? That was strictly political. I just could not stand the communist regime anymore, the constant lying and brain washing, lack of basic freedoms and rights.
Q: Why did you come back to Poland? I really wanted to spend some time with my parents, both 86, and at the same time help in the development of our little project in Nakło.
Q: What made you want to become a chef? My wife told me to. Just kidding, although she was instrumental and extremely supportive in me going back to school and changing my career. I've always enjoyed cooking and I feel great in the kitchen.
Q: What else have you done professionally? My bio is full of various jobs, as it usually is in the case of an immigrant. I even dug graves when I lived in Germany. The pay was good! One of the most memorable jobs was driving a big semi, first as a passenger, then as a driver and finally as an owner-operator. I have seen some of the most amazing sites while on the road. Another great job was working for an environmental company. I had a chance to go to Alaska and this was the most beautiful scenery I've ever seen in my life! Recently, I graduated from college (it took 30 years to do it, but the feeling was great) and, while at school I started working for Peter X Kelly, one of the best chefs in Hudson Valley (New York).
Q: Tell us about your family. I'm married to a wonderful lady, Joan K. Rosen, for more than 19 years now, and we have a fabulous daughter, Ariela, a student at Wellesley College. Joan is a news woman. She has worked at the Detroit News (that's where we met) and Associated Press, New York, among other positions. As of now, she works part time at the Nyack, NY library.
Q: What's your signature entrée? I'm a carnivore so I love meat. Beef Wellington — fillet mignon with mushrooms and onions baked in puff pastry, is one of my all time favorites.
Q: What's your signature dessert?
Almond cake with mixed berry compote and whipped cream. Yummy.
Q: What's your signature soup? I grew up eating soups. I love soups and my mother prepares a wonderful variety of soups. In the States I was introduced to butternut squash, and I love to prepare this velvety smooth concoction.
Q: What's your favorite restaurant? Virgil's in Manhattan, serving wonderful southern cooking in a casual atmosphere. For a fine dining experience it is hard to top Xaviars in Piermont, NY
Q: What's your favorite fast food? I love tacos, any Latino tapas
Q: What advice would you give to someone who wants to be a chef? Cooking professionally is completely different from cooking at home for some friends, but if you decide to go for it, do not be afraid to try new things. And always use the best and freshest ingredients you can get, preferably locally grown.
Q: Who is your idol in the kitchen? My mother. She's a great cook, extremely efficient, creative and she got me interested in cooking. I've learned a lot from Peter X Kelly and his chefs, Philippe Scouarnec and George DeMarsico. But I just love Jacques Pepin, his cooking and his story.
Q: Who was most instrumental in your development as a chef? Peter Kelly hired me basically off the street and led me through various areas of professional cooking.
Q: What are you reading right now? I'm reading Jacques Pepin's autobiography, "Apprentice." Fascinating.
Q: You've been in all 48 continental states in the USA. What's your favorite state (city/place)? For a foodie, New York is the most interesting place on earth with its abundance of choices from super fine dining to a hole-in-wall serving outstanding Chinese.
Q: What kind of car do you drive? I have a vintage 1987 Mercedes Benz that still looks great and takes me places.